Assessment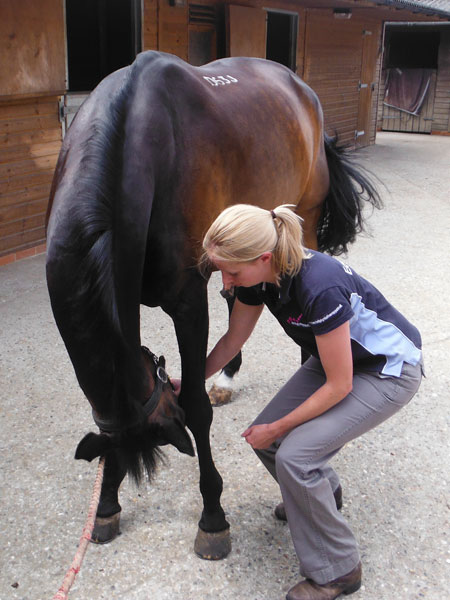 A full assessment of your horse including:
Observation of posture, conformation and symmetry.
Gait assessment which may incorporate observing the horse on the lunge or ridden depending on the problems experienced.
Hands on musculoskeletal assessment including palpation and range of movement assessment.
The assessment is tailored to the horse and rider as appropriate.
Treatments
Some of the most frequently offered treatments include:
Joint mobilsation.
Soft tissue mobilisation.
Massage
Electrotherapy:
TMM – A muscle stimulation machine that can be used to assess the quality of a muscle contraction and mobilise muscles and joints to optimise function.
Pulsed Electromagnetic Therapy – relieves pain, increases circulation, increases the rate of tissue repair, accelerates the inflammatory process, reduces swelling.
Laser treatment- accelerates healing, restores cellular function, reduces pain and swelling, decreases muscle spasm.
An individually tailored exercise programme for the owner/rider to carry out with the horse incorporating stretching, strengthening and stabilising exercises. These are frequently carried out from the ground and may include in-hand pole exercises. Often ridden exercises will be given in conjunction with these as the horse progresses.
I work in conjunction with your vet as well as other professionals such as farriers and saddlers as required.
I can provide professional advice for riders and trainers including the provision of a fully tailored plan if required and necessary.
Why you should use Physiotherapy Post Injury or Surgery